Bioidentical Hormone Replacement for Women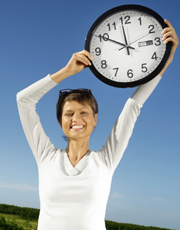 Bioidentical hormone replacement therapy has long been a powerful tool in helping menopausal and peri-menopausal women regain and maintain their quality-of-life, but lately, it's gotten a big boost from some big names.
In January 2009, Oprah started the conversation with her first show on the topic entitled "The Great Debate: Should You Replace Your Hormones?" In April 2009 "Dr. Phil" devoted his entire show to bioidentical hormone replacement therapy (BHRT). Robin McGraw, Dr. Phil's wife, is an enthusiastic supporter of BHRT and has received hormone replacement for many years. Featuring patient testimonials and expert advice, the show, entitled "What's Hormones Got to Do With It?" educated and informed viewers on the subject of hormone therapy.
On Oprah's show guests, Dr. Christiane Northrup, author of The Wisdom of Menopause, and Robin McGraw, author of What's Age Got to Do with It?, openly discussed the subjects of peri-menopausal and menopause, providing viewers with motivation, inspiration, and information to help in their own battles with hormone imbalance and a sometimes uncooperative medical establishment. In addition, Oprah invited Suzanne Somers, author of "Ageless, The Naked Truth About Bioidentical Hormones" and "Breakthrough: Eight Steps to Wellness", to share both her struggles and successes with fitness, nutrition, and Hormone Replacement Therapy.
The Hormone Therapy Network provides medically supervised hormone therapy to thousands of women across the country. Our experienced staff of physicians and medical professionals specialize in hormone replacement therapy, and pride themselves on staying up-to-date on the latest advancements in the field. So, If you're sick and tired of being sick and tired, contact us today; an client assistant will call you to discuss the available therapies.
All of your information is 100% confidential. Just fill out the form or give us a call!
---